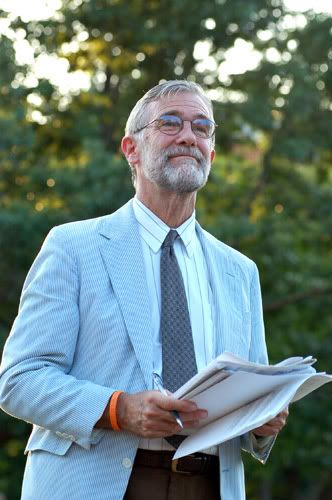 You know there's a problem when a 27 year ex-CIA guy who used to give Bush Sr. his daily CIA breifings is using words like fascism to describe the executive power grab that has be going on in D.C. since the Bush administration came to power. Ray McGovern was the guy who called Rumsfeld a liar at a press conference when he asked why Rummy lied his way into Iraq, reciting a quote from Rumsfeld in which he says "We know where they [
WMDs
] are. They're in the area around Tikrit and Baghdad and east, west, south and north somewhat."
Here's a link to the video clip
, and when you hear Rummy say, "No, no, no, just hold on a minute, let him stay," thats Rumsfeld calling off the security guards who rushed McGovern as he asked his question, ready to haul him out of the room... Rummy must have realized who McGovern was and what would happen if he was hauled out of a press conference for questioning the Defense Secratary's quote... What ever happened to a "Free Press?" (
by the way, we now rank 44th in the world in press freedom
)
Here's a link to Ray McGovern's interview on the lovley Randi Rhode's show on Air America Radio.
I highly suggest listening to this guy, he knows what he's talking about.